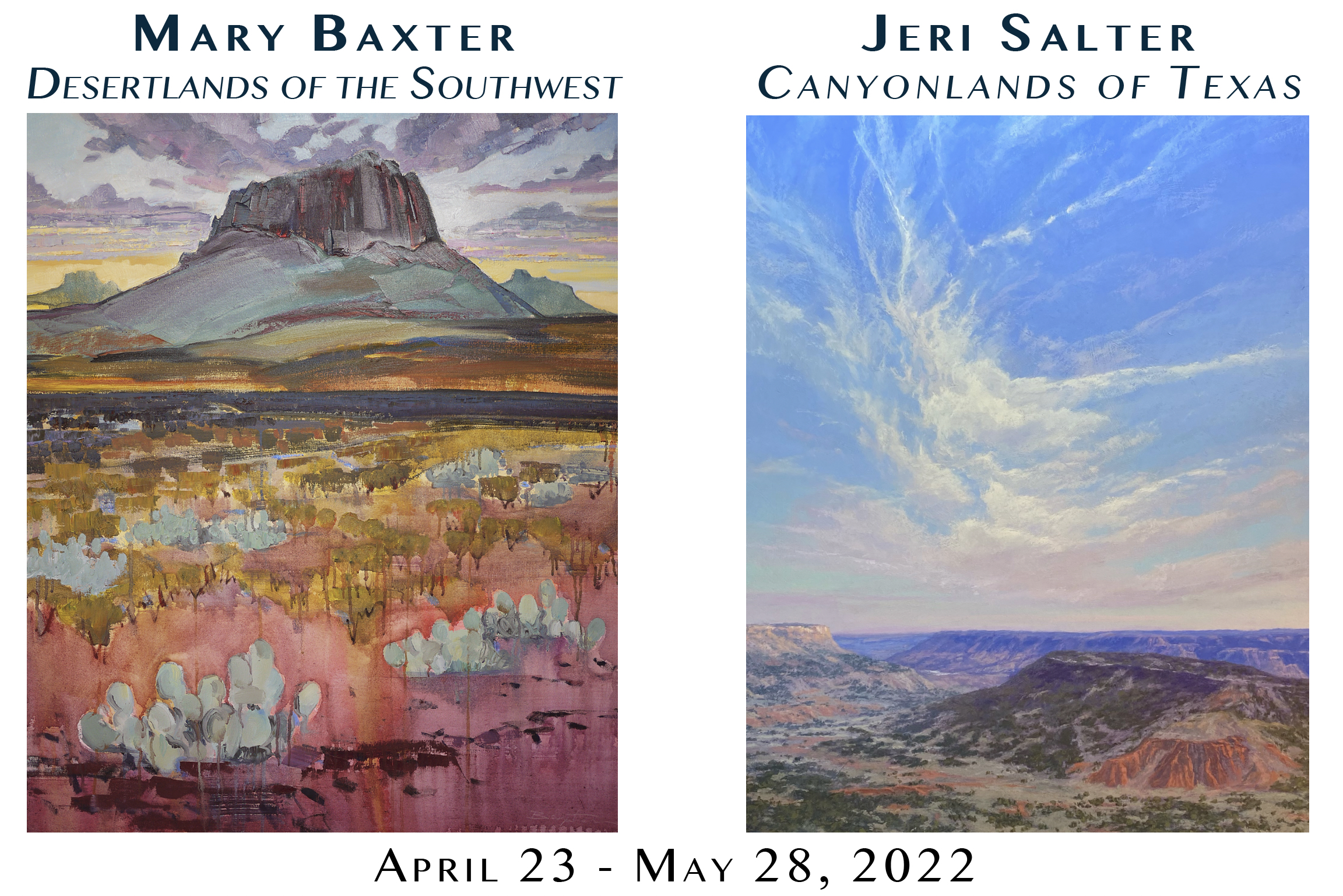 Mary Baxter: Desertlands of the Southwest & Jeri Salter: Canyonlands of Texas
On View: April 23 – May 28, 2022
*Artist Talk: Saturday, April 30th, 4 – 5PM
*Opening Reception: Saturday, April 30th, 6 – 8PM
On view from April 23 – May 28, 2022, Foltz Fine Art presents two long-anticipated, one-woman exhibitions – MaryBaxter: Desertlands of the Southwest and Jeri Salter: Canyonlands of Texas. Baxter and Salter share a mutual admiration of the land, history and culture of Texas and the greater American Southwest which informs their two distinct approaches to capturing its essence and beauty – one in oil painting and the other in pastel. The vastness of Texas is something that is hard to grasp, taking over eight hours to drive across the state, with constant changing geographic regions throughout the state. As you head West, travelers pass through the Piney Woods, prairies of North Texas, coastal plains, breathtaking Hill Country vistas and into West Texas – which is comprised of a multitude of landscapes within its own designated area. From desolate desert panoramas to high mountain peaks across the Big Bend, and up to Palo Duro Canyon, often referred to as the "Grand Canyon of Texas." These areas imperceptibly flow into New Mexico and Northern Mexico, without regard for borders or state lines, and are rich with geological curiosities, teeming with wildlife, and steeped in thousands of years of history.
In Desertlands of the Southwest, Mary Baxter, one of the most celebrated contemporary expressionist painters of the region, depicts her love for Far West Texas, New Mexico and the greater American Southwest as evidenced through her paintings, which reveal a deep understanding and nuanced knowledge of these storied lands, based on insights she has acquired over years of living here as a resident, a rancher and now a full-time painter. The high desert country of West Texas is engrained in her psyche, having who moved to the area over twenty years ago and currently splits her time between her home and studio in Marfa and being "off-the-grid" on their ranch near Truth-or-Consequences, New Mexico. Her paintings of the area, reflect Baxter's profoundly internalized "sense of place", these bold abstractions drawing from this expansive and dramatic country, and affirming her vision through grand execution and striking color schemes. There is a sense of serenity in her work. Balance and harmony are also hallmarks of Baxter's work—mountains, desert vistas, plants, rain clouds rolling through a mountain pass or cumulous forms scudding over a pasture, the vibrant colors of sunsets and sunrises, slowly moving cattle, windmills, and stock tanks are all presented with equal weight. Her work calls out to viewers, encouraging them to take the time to revel in such wonders.
Similarly in Canyonlands of Texas, Jeri Salter, one of the state's foremost pastel artists and regionalist painters, captures the majesty surrounding Palo Duro Canyon—120 miles cut through the Caprock Escarpment in the Texas Panhandle. Carved and created over millions of years, this formation is the second largest canyon in United States (next to the Grand Canyon) with dramatic geologic features, multicolored rock strata, and steep mesas. Fascinated by this lesser known and traveled area, Salter frequently adventures from her Hill Country home to the Panhandle and West Texas, dedicated to capturing the natural world – its majestic mountains and rolling plains, the ever-changing weather and big skies of Texas, and livestock grazing by the side of the highway. Her paintings capture places frozen in time, often reminding the viewer of their own memories of past journeys and personal experiences in similar lands. As Salter beautifully captures the effect of "the faraway nearby" of the American Southwest in her paintings, it is these remote locales that evoke within her an emotional sense of "searching" and continue to pull her back for more.
Both Mary Baxter and Jeri Salter are members of the prestigious group of "Contemporary Texas Regionalists" – having been featured in the 2017 Of Texas Rivers and Texas Art project and being selected as "Centennial Artists" for the upcoming 2023 The Art of Texas State Parks book project and touring museum exhibitions. In fact, select works from this project will be included as part of each artist's solo exhibition. The idea for these two solo exhibitions, shown side by side, has been in the works for several years, originally planned for Fall 2020, but had been postponed in part due to the pandemic. After a two-year wait, the Houston gallery will finally showcase this impressive body of work, inviting viewers to visually explore the majesties of West Texas and beyond, which are sure to enthrall.
These exhibitions will be on view at Foltz Fine Art from April 23 – May 28, 2022, with a reception held on Saturday, April 30th, from 6-8pm. Both artists will be in attendance, and a brief artist talk is planned for that afternoon from 4-5pm. Of note, the artists and gallery will donate 10% of sales to Doctors without Borders for their Ukrainian Emergency Relief Fund to aid with the unfolding global events. For more information, please visit FoltzGallery.com.