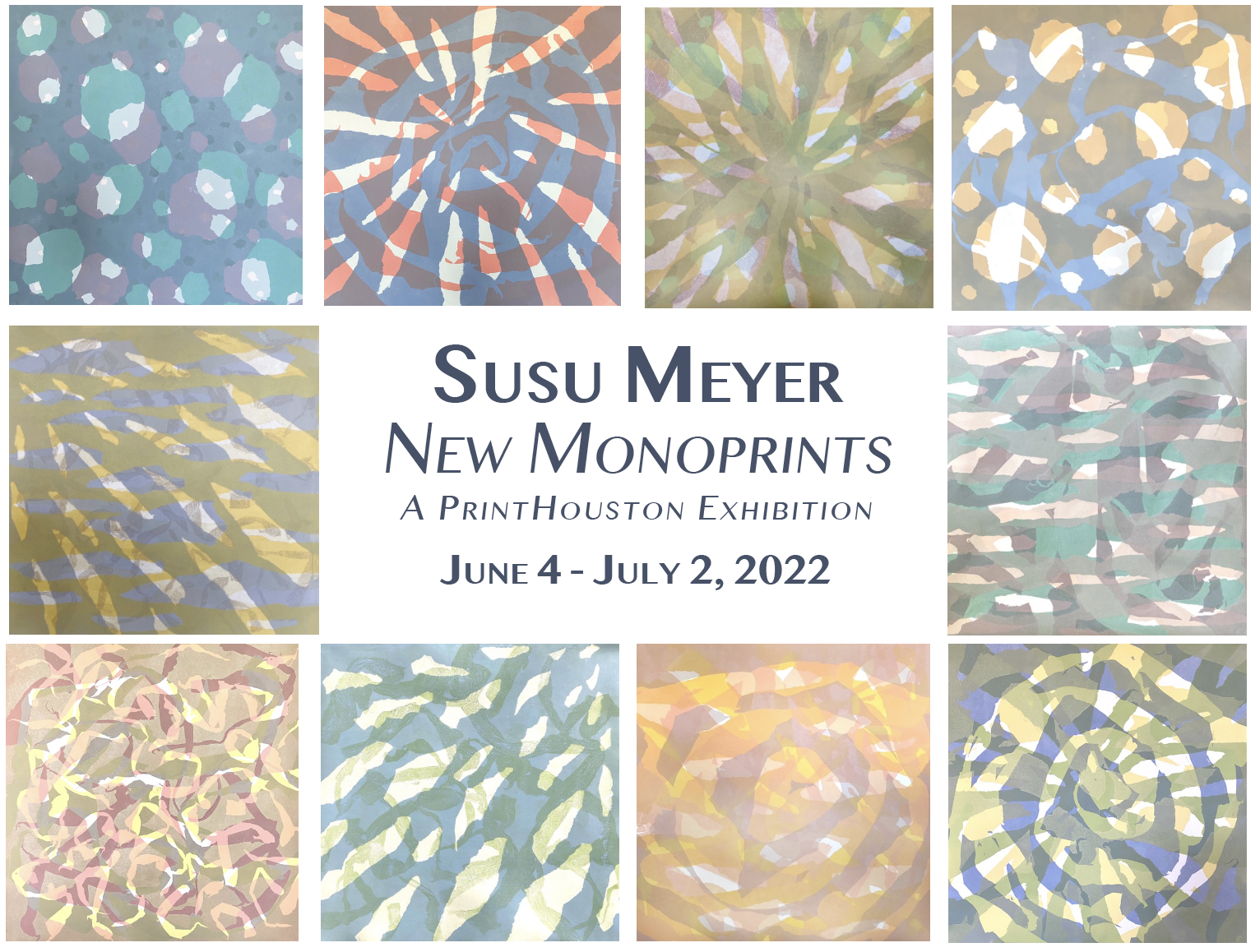 Susu Meyer | New Monoprints
A PRINTHOUSTON EXHIBITION
On View June 4 - July 2, 2022 ~ EXTENDED TO JULY 9TH ~
Opening Reception: Saturday, June 4th, 6-8pm
From June 4 – July 2, Susu Meyer: New Monoprints will be on view at Foltz Fine Art, featuring 20 new works as part of PrintHouston's biennial celebration. Susu Meyer is a Houston-based artist, best known as a landscape painter; yet printmaking has been an integral part of her practice for over two decades, often relishing in the freedom it allows her with experimentation and in the unexpected outcomes. Her latest series of abstract monoprints are intuitive, dealing with randomness and imperfection, which she hopes will challenge the viewer to use one's senses to feel and learn to "see" in another way.
Show Statement: Accidental Intent
When painting the landscape, I am drawn to untouched, natural elements. I focus on long and distant views, and other times, parts of the whole. Given how transient the landscape can be due to conditions such as weather, and light at a particular time of day, what catches my eye might be considered "random". When and why something presents itself is a constant source of bewilderment. I see something and feel as though I've uncovered a treasure. Often, when I have the intention for a piece, the process will lead to something entirely more interesting, something that I could not have planned. This never fails to surprise me. If I am pleased with the end result, and feel a sense of conclusion, I am very grateful. I'm interested in abstraction for many of the same reasons. Making monotypes also forces me to deal with randomness, mainly because for me, the process is intuitive and imperfect. While I have an intention (in this collection by placing torn paper and plastic bags, grocery bags! on top of a colored plate), I do not know how many variations, how many colors, how many runs it will take to make the piece look complete. The outcome is unpredictable, but the process is exciting mainly because it continues to open up more ideas. The landscape is familiar to us all. My paintings hopefully initiate feelings from the viewer – serene, peaceful, foreboding and sometimes downright threatening. If a piece succeeds it touches the viewer in some fashion, and enables them to 'check out', and daydream for a moment, or longer! Opening one's mind and letting go is good for all of us. My hope is for the abstracted pieces to cause an initial reaction or feeling not based on any knowledge of place. If they are successful, they challenge the viewer to use one's senses to feel, and thus learn to 'see' in another way. -Susu Meyer, April 2022
This exhibition is in association with
PrintHouston: A biennial celebration of original prints, the artists who create them, and the people who collect them.
https://www.printmattershouston.org